Upcoming Eventsclick here for Calendar.
Mixed Pairs Championship - Monday Evening 27 and Friday Evening 31 March 

STaC Games - Thursday evening 30 March  (299er only) & Friday afternoon 31 March
NB - Thursday 30 March - 299 game only (no open game)
Thursday 20 April - Teams Evening
NLM Championship (less than 300 MPs) - Thursdays 11 & 18 May
Click here for Over 70% Games (Please let us know if you have >70% game)
Welcome to the Bermuda Bridge Club Website
We are a members' club and the principal bridge club on our beautiful island.   We run an open, stratified duplicate game on Monday afternoon and evening, Wednesday morning, Thursday evening and Friday afternoon.
Open Pairs 2016
Congratulations to David Sykes and Charles Hall on winning the Open Pairs title for 2016 with a 61.5% game, just ahead of first round leaders John Burville and David Cordon who closed out at 60%.
Youth Team Championships in Italy
Saltus Grammar School said that its school has "made history as Bermuda's first ever youth team to attend a bridge world championship."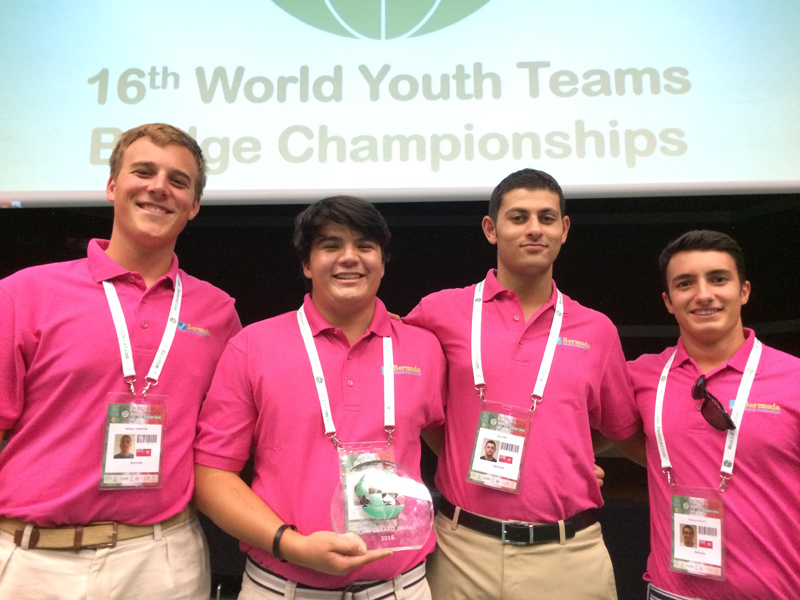 Liam Peniston, Ruskin Cave, Tyler Irby and Gianluca Cacace. Photo by Michael Viotti
Michael Viotti, a physics teacher at Saltus, led a team of four students to the World Bridge Federation's Youth Team Championships in Salsomaggiore Terme, Italy from August 3 to 13. The team included recent Saltus graduates: Tyler Irby, Gianluca Cacace, Liam Peniston and Ruskin Cave. John Burville, a seasoned international player from Bermuda, also attended as the team's non-playing captain.
Summer Party at Rosie's
Junior Pairs Champions 2016
Congratulations to Richard Keane and David Pickering,
who put together a tremendous second session 75% to overtake Delton Outerbridge and Mary-Leigh Burnett, first session leaders, and win the title by just 4 matchpoints. Not far behind were Kathy Keane and Mike Viotti in third. 16 pairs competed in a hard-fought match. Well done all.